Secret Weapon Lures
<![if !vml]>
<![endif]>
BETTER DESIGNS….BETTER PERFORMANCE
True Spinnerbait & Buzzbait Innovations
Spinnerbaits account for over 12 million black bass caught in the U.S. every year. Many anglers carry a wide assortment of specialized spinnerbaits to be ready for any situation. Secret Weapon's patented, no-tool, quick-change spinner blade attachments and innovative designs make first-generation, conventional safety-pin spinnerbaits virtually obsolete.

<![if !vml]>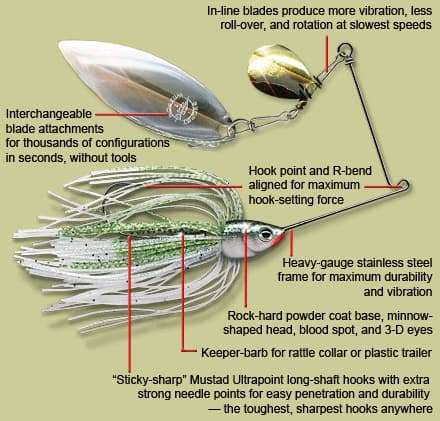 <![endif]>

Secret Weapon revolutionized spinnerbait fishing while saving you space, weight, and money.
Secret Weapon precision-crafted spinnerbaits combine in-line spinning lures' attractive sound and flash with the snag-resistant qualities of the safety-pin frame. Because the Secret Weapon Spinnerbait moves and sounds different in the water, it attracts more bass, musky, northern pike, redfish, snook, and other predatory fresh- and saltwater species than other spinnerbaits.

<![if !supportLineBreakNewLine]>
<![endif]>
Secret Weapon spinnerbaits hook and land more fish. Look closely and the first thing you notice — no swivel! Free-floating, in-line blades improve tracking and reduce rollover on rapid retrieves. Blade attachments swing free to clear the hook point on strikes. The frame and blades of first-generation spinnerbaits can actually interfere with hook-ups.

Secret Weapon's beautiful, powder-coated, chip-resistant minnow-profile heads slip through vegetation and brush, and they can be dislodged from riprap more easily than cone-shaped or rounded heads. Ultra Point, Extra-long Mustad hooks, heavy-gauge stainless steel wire frames, and top-quality silicone skirts hold up well fish after fish, season after season.

Secret Weapon spinnerbaits excel as drop baits, the body remaining horizontal while not just one but all blades helicopter freely. Notice the line-tie in relation to the hook point. Every angle and length of the stainless wire frame has been engineered to produce more solid hookups and improve casting accuracy and distance.

<![if !supportLineBreakNewLine]>
<![endif]>
Secret Weapon spinnerbaits surpass every other spinnerbait in the world, offering unparalleled value. Universal "Quick-Clip" blade attachments provide versatility and flexibility in lure presentation never before achieved in spinnerbait fishing. A few spinnerbait bodies and a handful of blades replace many heavy tackleboxes of conventional spinnerbaits.
For more info on our products check out our website at www.secretweaponlures.com
Mike Bailey
Secret Weapon Lures Pro Staff
North Carolina
BassNEdge Product Review Staff